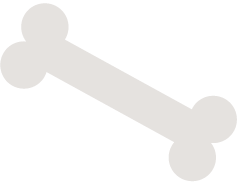 A well trained dog is a dog trainer's most valuable tool!  A trainer's personal dog speaks volumes about the trainer's skills and abilities.  The trainer's dog is a also a key component of their continuing education.  Trainer's who actively compete with their dogs in recognized dog sports are putting their training skills and relationship to a true test.  Our dogs are not only our companions they are also our training partners helping in rehabilitating dog reactive dogs and serving as wonderful distractions for more advanced work.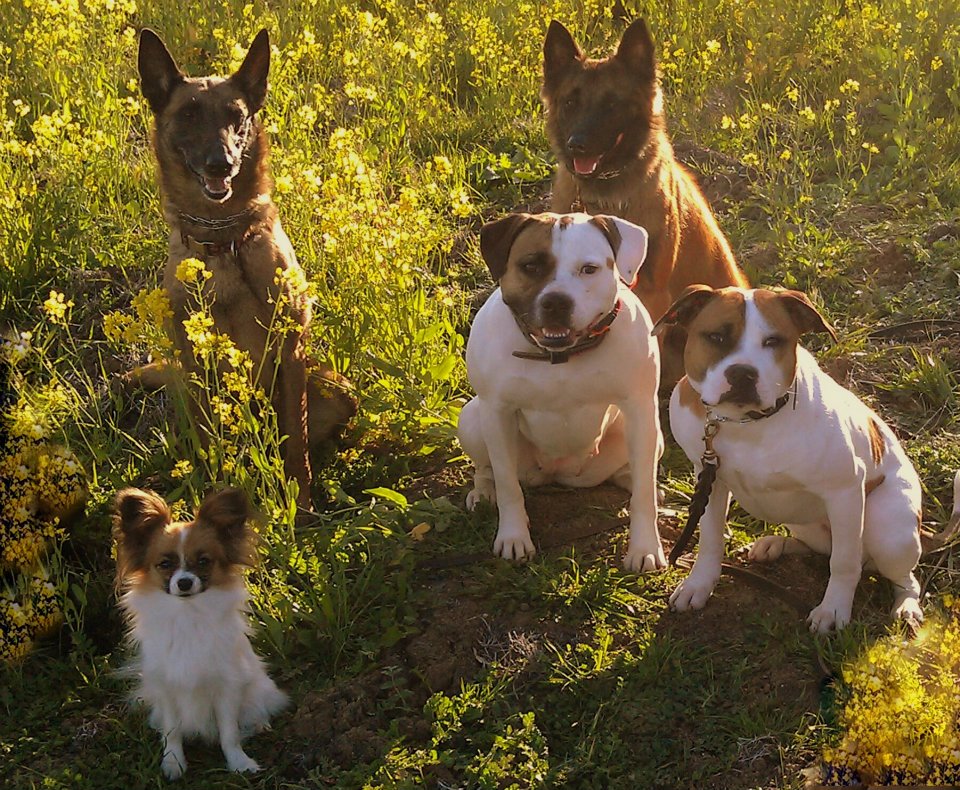 What are all those letters before and after your dog's names?

The letters and numbers before and after our dog's names represent a title that they have earned from an organized dog sport.  A title is an achievement, a test of the dog's training and the trainer's ability to handle their dog under pressure and stress.  Titles are earned at trials and shows under a variety of organizations such as: AKC, UKC and USMRA.  Each title has a different requirement, for example to earn an obedience title a dog must compete three different times under different judges earning a minimum score of 170 out of 200 points and at least half the points in every exercise.  The exercises are done both on and off-leash under a variety of different distractions.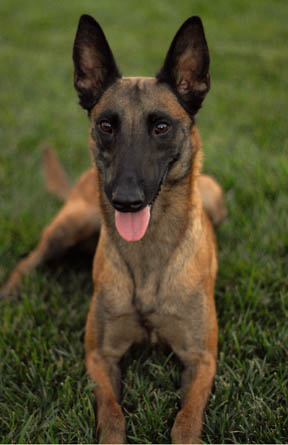 P1 Qiana Du Loups Du Soleil CD RN OB1 WST PDC

Qiana is a six year old Belgian malinois from the Loups Du Soleil kennel, a top working Belgian Malinois kennel.  She is an extremely fun dog to train, with boundless energy and high motivation for food and toys.  She is a wonderful dog to use in working with leash reactive dogs and rude puppies. 

UWP UAG1 CA UMJ UCD URO3 CH Norcal's Pretty n' Pink of D&DOB1 SRD-P - UKC Super Dog

Pink is a performance style American Bulldog.  She is a brute of a girl that is willing to try anything once.  She excels at obedience and dock jumping.  Currently is the breed record holder for competitive dock jumping with a record jump of 23' 9"
(See stats here)
. She is retired now but has competed in multiple sports including traditional obedience, rally, dock jumping, weight pull, agility, lure coursing and more! Pink is often found accompanying Amy on our dog hikes.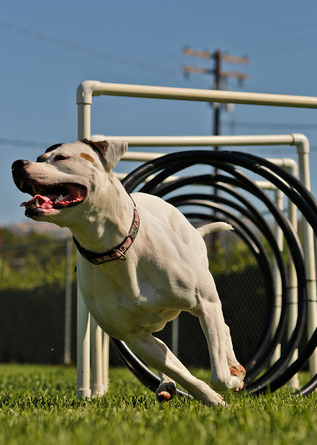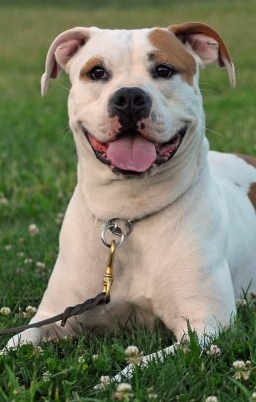 UAG1 UCD URO1 CA GRCH  Norcal's Bella Luna Tic MR1, CSAU, TT, CGC

Luna is a pleasure to train and trial with and is always happy to work. Luna is only the second female American Bulldog to be titled in Mondioring, a sport that invovles obedience, agility and protection under extreme distractions. Not only is Luna a fabulous working girl she is also a grand champion show dog.  She is the first female American Bulldog to ever earn a Mondio Ring 1 which requires high level obedience, extreme jumping and protection work.  Luna is our puppy trainer of the group as she absolutly adores puppies.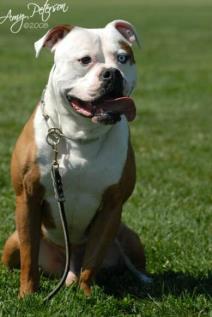 P1 Norcal's Malo Rojo BST PDC FO OB1 TT CGC

Don't let his looks fool you, Malo is a big goof ball.  At nine years old Malo is officially retired but will occasionally accompany us on dog training appoints to serve as a distraction dog.  In his hay day Malo was a powerful working dog that excelled in both obedience and protection.  With an always confident and outgoing attitude he was always a pleasure to work with.  Malo was also part of the "Kids Safe Dog Program" at the SPCA teaching children how to be safe around dogs.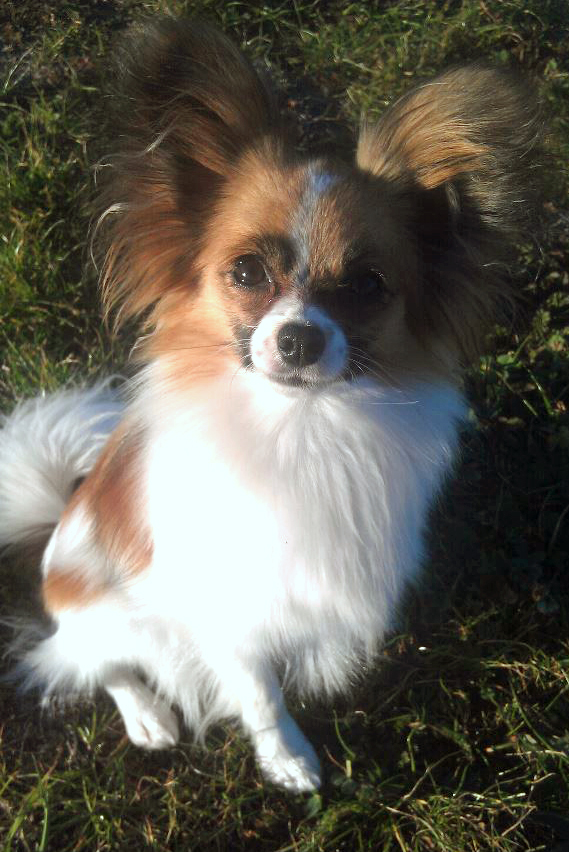 Silhouette's Lil Drama Queen aka "Clover"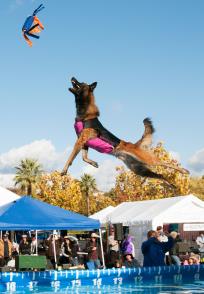 Hudson wins 1st place in diving dog at the Purina Pro Plan Incredible Dog Challenge 2013 Western Regionals!

Hudson ties the PPPIDC World record at the 2014 National event!

UCD URO1 Hudson Loups Du Soleil SVE ED PROAD SuperE - DockDogs Big Air Western Regional Champion 2012, Splash Dogs Super Vertical Extreme National Champion 2012, High in Trial Rally x3, High in Trial Obedience, National Record Holder for Xtreme Air Dogs in Distance, Speed and Height!  World Record holder for Spash Dogs at 28'7"! 

Hudson is a world famous dock jumping dog! He has traveled the country to compete against some of the toughest competition in the dock jumping world. He has tied, broken and continue to hold several world records in the sport of dock jumping.  He has also won three High in Trial Rally awards (highest score of all the dogs competing in all levels on that day) and a High in Trial in traditional obedience!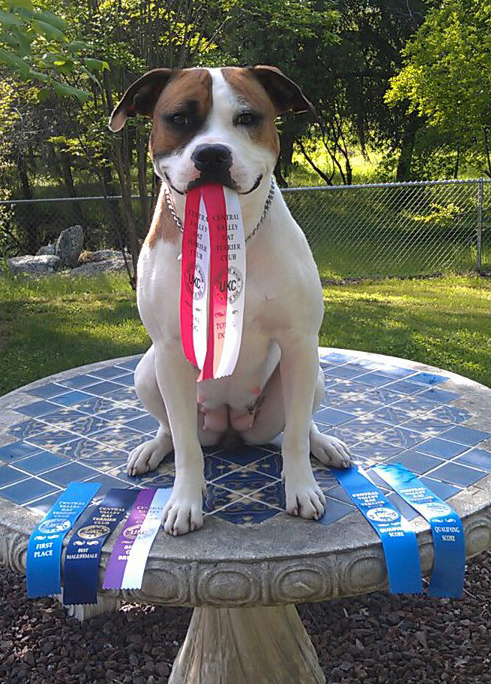 URO1 CH Norcal's Fuchsias in Fashion TD SVN ND - 2012 Splash Dogs Novice Vertical Champion, 2x UKC Total Dog

Fuchsia is our little bowling ball of a bulldog.  She is the comedian of our bunch.  She has a true joy for life and a passion for training!